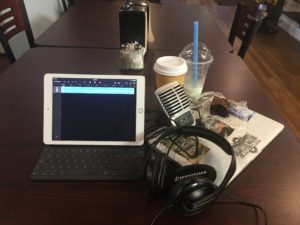 Welcome to the second episode of Podcasting for Dummies: The Companion Podcast. Joined by author, podcaster, and wife Pip Ballantine, Tee hosts an episode that is part informative, part product review, part interview, and part CoupleCast. Recorded live from Ground Central Station in Manassas, Virginia, Tee and Pip talk about the challenges and perks in podcasting remotely. We also cover in this episode:
Working on location
A review of the Shure MV51
Anniversary shenanigans
Tips on handling background noise challenges
Advantages of podcasting on-the-go
Make sure to let us know what you think about the podcast with a review on iTunes, a comment on this episode's blogpost, or through WhatsApp or voicemail at 703.791.1701. Got a question or idea for a topic you want us to cover in the future? We would love to hear from you.
And remember — Chuck and Tee are hosting the P.I.Y Workshop in Phoenix, Arizona! Come on out and learn from the guys behind this podcast and the book! Spots are going quickly! Sign up before 10/10 for our special Early Bird Rate!
Remember, you can find the show on iTunes, Stitcher, and Google Play!
Subscribe, listen, and drop us a review.
Thanks for listening.
Pod on!
Podcast: Play in new window | Download
Subscribe: RSS